Recover energy in the air to produce hot water that can be used in a warm water underfloor heating system and to heat domestic hot water.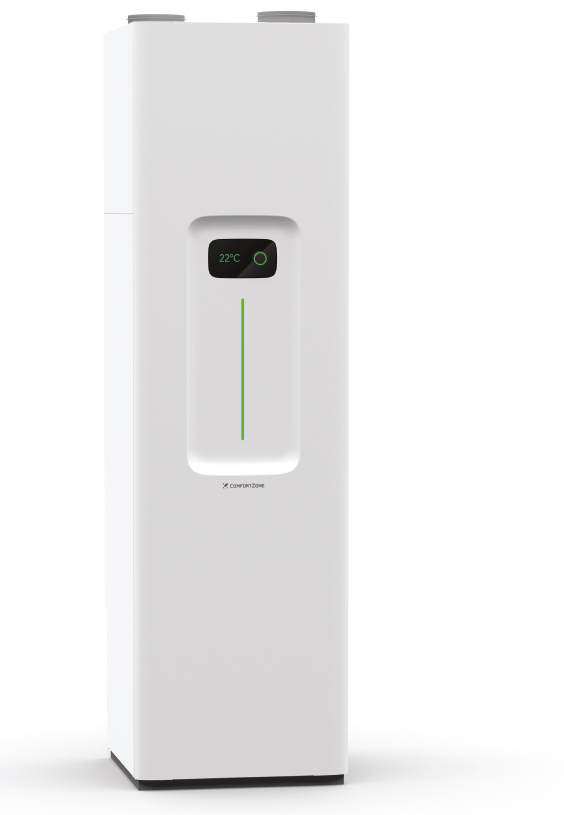 EFFECTIVE AIR EXCHANGE VIA AN EXHAUST AIR HEAT PUMP
In the LivingBetter solution, we combine the ventilation window with extract air heat pump technology. Heat pump technology is a stroke of genius because air entering a building will always have to leave it.
An exhaust air heat pump draws air through exhaust air outlets in the kitchen and bathroom. The heat pump then recovers energy in the air to produce hot water that can be used in a warm water underfloor heating system and to heat domestic hot water.
Modern exhaust air heat pumps are so efficient that if you install them together with our ventilation windows, they constitute an unbeatable energy and indoor climate solution. Energy in exhaust air is exploited optimally, your total energy consumption is minimal, and you have an ideal indoor climate.
We work closely with leading suppliers of extract air heat pumps for all types of structures and offer our complete LivingBetter concept whenever it is possible to install it in a building.
Choosing the right solution is imperative, whether your building is to be housing, a school or other educational institution, offices or something else. We offer our clients a superlative service when we are involved from the earliest days of the project. During the advisory phase, we can offer the best possible solution for your particular project and building.
Common to all heat recovery heat pumps is that they draw exhaust air out of the housing unit. An exhaust air heat pump recovers energy from the air it has drawn in before pumping it back outside.
HEAT PUMPS FOR SCHOOLS & OFFICES
How a heat pump is used depends entirely on the need. We will advise you to choose a solution that matches how you intend to use the recovered energy – to heat hot water, heat your building or simply for ventilation purposes.
At schools, where there is usually most activity during the daytime – in some but not all classrooms – it may make sense in terms of energy consumption to control the systems according to ambient CO2. The system adjusts air exchange to the volume needed to maintain a healthy indoor climate.
When an exhaust air heat pump is used to draw air, a corresponding volume of fresh air has to be drawn into the building. In a LivingBetter solution, fresh air intake occurs in the ventilation windows. As we know the exact air capacity via the valves in the windows, we can calculate the number of ventilation windows required to achieve precisely the right volume of fresh air into the building.
In larger structures, such as schools, which need a greater flow of air during school hours, we may add air intake aggregates to ensure that there is sufficient fresh air ingress at all times.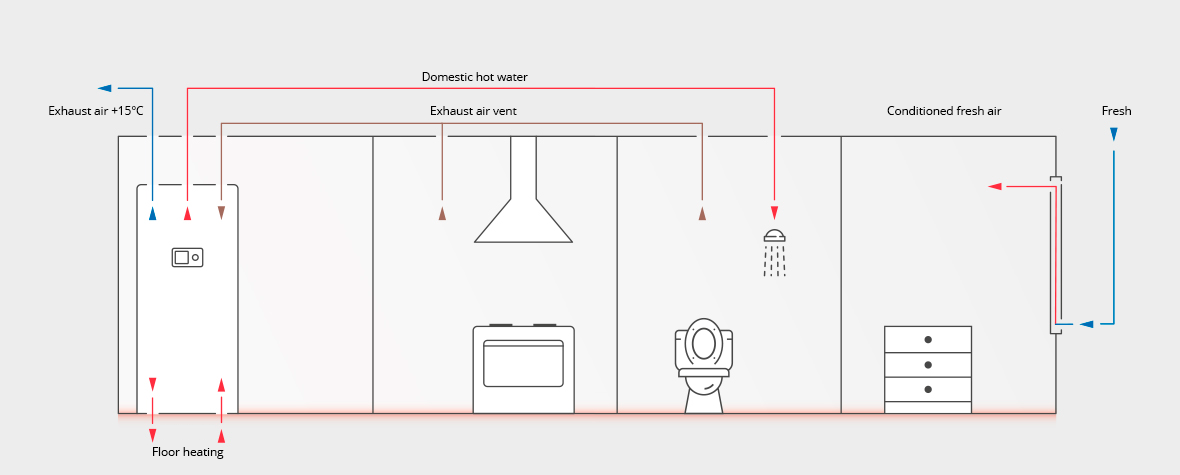 HEALTHY INDOOR CLIMATE GUARANTEED
The ventilation window is a CE-labelled product manufactured under DVV-approved conditions (DDV is a Danish window quality standard).
Our intelligent valve system is patented and tested for precision and stability by German research institute Fraunhofer-Gesellschaft.
Aalborg University applied the results of the Fraunhofer tests to develop the calculation programme we use to document the energy effect of our ventilation windows.
We offer a 10-year guarantee on windows and doors.
Contact us for free advice on the best indoor climate and energy solution for your building.
BETTER VENTILATION, BETTER BUSINESS
Reap the full benefit of our experience – Allow us to help you from the very start of your project. Tell us something about your plans. One of our Indoor climate experts will contact you as soon as possible.
[contact-form-7 id="131" title="Contact Page Form"]